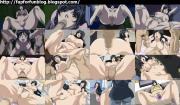 All sex scenes are raging hot animation!
Includes sound effects, movie view mode!
The stolen shame of a beautiful married woman, her downfall, her assault, and gangbang story!!
Her beloved husband, her son... for them she endures brutal filthy shame!!
Yayoi lives a happy life with her family.
But for a long while she's been in a sexless marriage.
One day her husband brings home some coworkers.
They take an instant like to the smoldering, neglected womanhood of Yayoi.
As her husband gets drunk, his coworkers creep up on her...
But it doesn'T end with that one disgraceful event. Now
she's got to keep that indiscretion secret... by continuing to
sleep with the men or else they'll ruin everything!
R*pe leads to slatternly pleasure, and pleasure leads to a collapse of morals.
Her lovers are ravenous beasts with throbbing c*ck, leaving her a shuddering
wreck of gapeface orgasms without a shred of feminine modesty.
All the while, cum dripping from her stinking whore holes, she begs
for her husband to come find her. To save her...
Exhibition masturbation / public piss / plump belly / gangbang / anal training / company corruption / forbidden sex with her son
Hardcore wife, milf, cuckoldry, hot married woman corroded virtue!
Temporarily Not Available