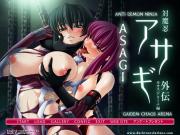 A side story of Taimanin Asagi!
This item was exclusively sold at the last Comiket.
A new character Snake Lady is featured in the detailed episode of Chaos Alena! Real hentai! Asagi is forced to have a surgery to heighten her sexual feeling, reaching thousand times normal. At last, she comes to participate in the tournament at Chaos Alena, but....
It would be much fun to play this work after playing the main game Taimanin Asagi.