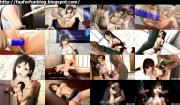 Resistance member T*fa Lockhart stood deep within the Corporation.
She'd managed to infiltrate her way to the core, but it was a devious trap.
The trapped heroine was drugged and, in a drunken stupor, was tortured
sexually. Her breasts heaved as her p*ssy began to glisten with desire,
a vibrator violating her hole as she was forced to service her evil
captors with her breasts and mouth. Finally she gave in.
With a c*ck in every hole, her pride collapsed in a depraved AVALANCHE...