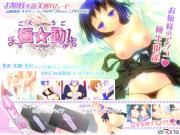 *This is 01-Torte H's animation work!
Maidens get bored with their life in the mansion and needs some stimulations.
Cute girls with knee socks are shy but does not resist their instinct.
Sex life in a naughty daily life with small mysteries.
*Display: 960x720
*More than 120 illustrations
*Light color option (dark, warm, pink)
*Short adventure part
*Erotic voice (acted by ChuChu)
*Display size is changeable
Original images are reduplicated from "Goth-dou no Otome tachi - HCG image collection".